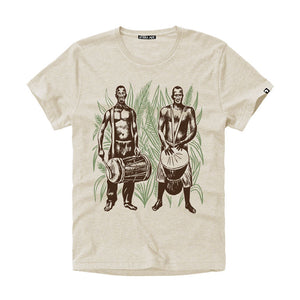 BUSH TELEGRAPH


Traveling far, the sound of beating drums have been used as an effective way of
communication between African villages. This design also pays tribute to the short film, FOLI (there is no movement without rhythm) by Thomas Roebers and Floris Leeuwenberg. Check it out online!
Our fabric has been given a long last finish to give extra wear. 5% Spandex gives extra comfort and helps keep the shape of this carefully crafted garment over time. Inks are all formaldehyde free and meet highest eco standards. T-shirts are branded with a small clip logo on the sleeve.
Fabric: 180g, 95% combed cotton, 5% spandex
Fit: semi fitted with a bound neckline
Proudly made in South Africa