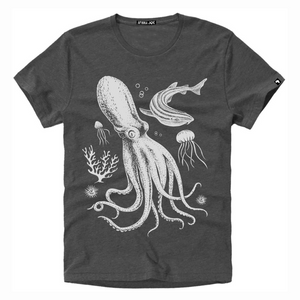 South Africa has one of the biggest forests on the planet. It is just somewhat less noticeable due to it being hidden under the ocean surface.
The Great African Kelp Forest in the cold seas around Cape Town is also home to the wild octopus and its predator, the Pyjama shark. 
On a clear day you may spot them from a kayak, swimming amongst jellyfish and sea urchins but ; being masters of camouflage ; they can disappear within seconds..
Our fabric has been given a long last finish to give extra wear. 5% Spandex gives extra comfort and helps keep the shape of this carefully crafted garment over time. Inks are all formaldehyde free and meet highest eco standards. T-shirts are branded with a small clip logo on the sleeve.

Fabric: 180g, 32% cotton, 63% polyester, 5% spandex
Fit: semi fitted with a bound neckline
Proudly made in South Africa