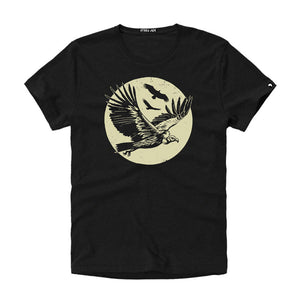 AFRICAN VULTURE

They may not be as endearing as the elephants, lions and cheetahs, but there's a new critically important species in desperate need of help. In just 30 years, more than half of the vulture population in Kenya's Maasai Mara has been decimated. 7 of Africa's 11 vulture species are on the edge of extinction, and 90% of reported vulture deaths in Africa are from medicinal use and poisoning; vultures are often the unintended victims of poisoning
incidents where humans place poison into carcasses to kill carnivores such as lions.
Our fabric has been given a long last finish to give extra wear. 5% Spandex gives extra comfort and helps keep the shape of this carefully crafted garment over time. Inks are all formaldehyde free and meet highest eco standards. T-shirts are branded with a small clip logo on the sleeve.
Fabric: 180g, 95% combed cotton, 5% spandex
Fit: semi fitted with a bound neckline
Proudly made in South Africa