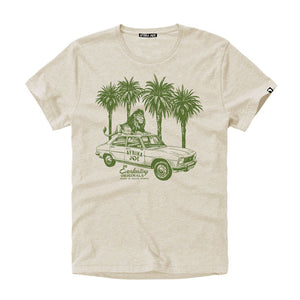 "THE KING OF AFRICA"
Since 1968, all the way down from the Sahara to the Cape, the Peugeot 504 has become legendary for its simple style and rugged durability. We'd love our T-shirts to also be everlasting classics.
Our fabric has been given a long last finish to give extra wear. 5% Spandex gives extra comfort and helps keep the shape of this carefully crafted garment over time. Inks are all formaldehyde free and meet highest eco standards. T-shirts are branded with a small clip logo on the sleeve. 
Fabric: 180g, 95% combed cotton, 5% spandex
Fit: slim fit, with scoop neck, rounded hem and bound neckline
Proudly made in South Africa