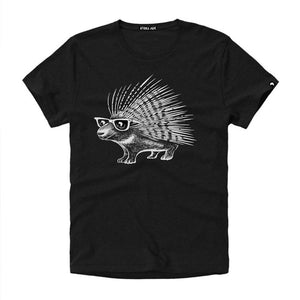 "Porcupunk"
Am I a punk? Am I a porcupine? These are the questions that the Porcupunk have to deal with. 
One of the coolest, prickliest creatures in all of Africa.
Our fabric has been given a long last finish to give extra wear. 5% Spandex gives extra comfort and helps keep the shape of this carefully crafted garment over time. Inks are all formaldehyde free and meet highest eco standards. T-shirts are branded with a small clip logo on the sleeve.
Fabric: 180g, 95% combed cotton, 5% spandex
Fit: semi fitted with a bound neckline
Proudly made in South Africa